11.1V 6800mAh 3S 120C Smart G2 Pro Basher LiPo: IC5 (SPMXB3S68) - Spektrum | RC-LEADER
Sold by:
Status:
In Stock
The Best for Backyard Bashing
Spektrum™ Smart Technology is proud to introduce our lineup of Smart LiPo batteries with specially formulated Graphene LiPo High Discharge Chemistry designed to provide consistently higher voltage throughout the entire run of the battery under even the most extreme amperage loads.
For RC Bashers, maximum capacity and power are key, and the new Spektrum Smart Pro Basher Series batteries deliver! The Pro series batteries allow for more capacity to be squeezed into the LiPo cells, allowing for larger mAh ratings when compared to similarly sized battery packs. The Pro Basher Series features a newly designed hardcase shell that is thinner and more lightweight, all the while staying rigid, durable, and impact resistant. This series lives alongside current Smart G1 and G2 batteries and is an upgrade to standard hardcase surface packs.
Smart Pro-Series battery's benefits include longer battery life, better performance over the life of the pack, and the peace of mind that comes from knowing your Smart battery is maintenance-free.
When a Smart Pro-Series battery is connected to a Spektrum Smart charger, its unique charging parameters and health information are uploaded to the charger from its integrated memory microchip. You can view and set preferences through the charger, such as charge rates, so all that's required to charge the pack is connecting it to your Smart charger. Smart technology takes care of the rest.
Spektrum Smart Pro-Series surface batteries store a wide variety of essential information, including:
Battery Brand
Battery Type
Battery Capacity
Battery C Rating
Individual Cell Voltage
Battery Temperature
Charge/Discharge Cycles
Spektrum Smart Pro-Series surface batteries also maintain an error log, including over-heat, over-discharge, and over-charge incidents. This data can help assure that the battery you've chosen is suitable for the application.
Innovative Spektrum Smart Pro-Series surface batteries are so easy to use that they nearly take care of themselves. Smart technology makes it easy to achieve peak battery performance, reliability, and longevity!
Features
High-capacity packs in new Pro Series case style
Fits most 2S to 8S bashing vehicles - check battery tray size to confirm compatibility
Simpler and safer to use
Powerful and consistent 120C Discharge Rate
Industry leading graphene LiPo battery chemistry
Fits all ARRMA 3S BLX models such as INFRACTION, BIG ROCK and VENDETTA
Fits some ARRMA 6S and 8S BLX models such as OUTCAST, KRATON, INFRACTION, and FELONY
High-performance 5C max Charge rate for super-fast charge times without damaging the health of the pack
Automatic Charging on Spektrum Smart charger reduces time and get you back to bashing fast
New hardcase design is thinner, allowing for more capacity to be packed into each cell, while still providing protection to the battery even in the most aggressive basher machines
Smart Battery Technology
When connected to a Spektrum™ Smart charger, a Pro-Series Smart battery's unique parameters, health, and balancing information upload automatically from its memory microchip through the IC3® or IC5® connector's data wire. To charge and balance the pack, you simply connect it to your Smart charger. Safe charging begins automatically.
New Pro Series Graphene LiPo Chemistry
New Pro Series LiPo Chemistry features an innovative graphene polymer that provides a consistently higher average discharge voltage over the whole discharge curve. Class-leading low internal resistance offers drivers higher current per run (supplying optimum speed/power to the motor and ESC).That means bashers get less voltage sag and longer overall battery life.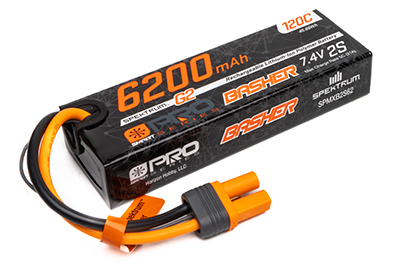 New Case Design
The new case design is a thinner poly-carbonate case that allows for more mAh to be squeezed into a basher-ready form factor.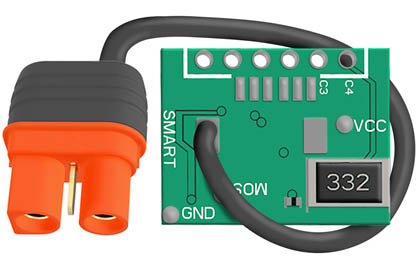 Smart Auto Storage Discharge
Spektrum™ Smart Pro-Series batteries practically take care of themselves. Pro-Series batteries come from the factory programmed to automatically discharge to a safe storage voltage of 3.90V after 72 hours of inactivity. The results are longer battery life, better performance over the life of the pack, and peace of mind that your Smart battery comes maintenance-free. The user can change the battery's Auto Storage settings based on preferences.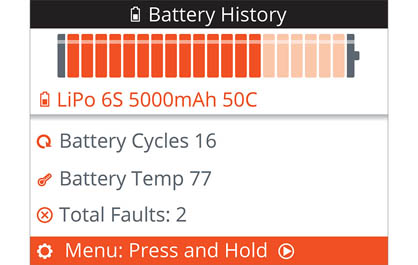 Data Rich
An integrated microchip allows each Smart battery to save vital information such as battery brand, chemistry, cell count, capacity, number of charging cycles, number of discharges, C rating, battery temperature, and internal resistance. Additionally, each battery will save a log of unhealthy events such as over-charge, over-discharge, and over-temperature. This allows you to make the most informed decision about each battery when getting your gear ready for a flight.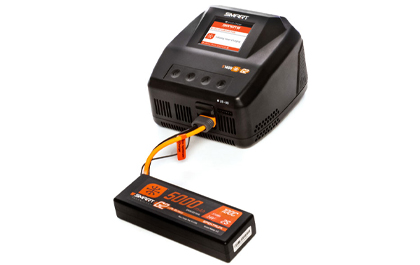 Simple and Quick
Preset charge, discharge, and storage parameters are automatically relayed from your Spektrum™ Smart Pro-Series battery to your Smart charger, making charging as simple as plugging in the pack. The charge rate of individual batteries can also be user-customized, allowing you to take full advantage of packs with faster charge ratings. The battery's integrated microchip remembers the last charging rate you set, so these settings will automatically take effect the next time you plug it in.
Product Specifications
| | |
| --- | --- |
| Hard Case | Yes |
| Maximum Continuous Discharge Rate | 120C |
| Product Height | 1.25" (32 mm) |
| Normal/Standard Charge Current | 6.8A |
| Integrated Balancing | Yes - Internal Balancer & Internal Adapter |
| Maximum Continuous Discharge Current | 816A |
| Normal/Standard Charge Rate | 1C |
| Product Width | 1.88" (48 mm) |
| Software Updates | Yes |
| Technology | Smart |
| Battery Type | LiPo (3.7V per cell) |
| Battery Balance Connector | G2 Smart |
| Charge Protection Circuitry | Yes |
| Number of Cells | 3 |
| Maximum Charge Current | 34A |
| Application | Surface Bashers |
| Cell Configuration | Flat |
| Product Weight | 17.91oz (508g) |
| Capacity | 6800mAh |
| Programmable | Yes |
| Battery Voltage | 11.1V |
| Connector Type | IC5 |
| Maximum Charge Rate | 5C |
| Product Length | 6.18" (157 mm) |
Existing Account Login
Accedi al tuo account
Resetta la password
Nuovo Registro conti